2022 Question and Answer With Thrashers House of Terror
Home » Blog » Iowa Haunts: An In Depth Look
April 7, 2022 By Haunt News & Press Releases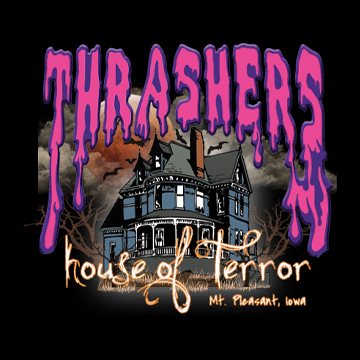 IowaHauntedHouses.com recently sat down with Grant Davidson of Thrashers House of Terror, to discuss what's new at Thrashers House of Terror for the 2022 Halloween Season!
What's new at Thrashers House of Terror for 2022? Do you have any new rides, attractions, or special features that Haunt Seekers should know about?
Every year we always go to Transworld Halloween Attraction Show and always come back with something new and cool! This year we have plenty of new toys coming.
What are you most excited about for the 2022 Halloween Season?
Being our 16th-year we all are excited for another year of scaring guest!
What differentiates Thrashers House of Terror from other local haunts in Iowa?
We have four weeks to build about 10,000 square feet haunted house. so year after year, we always have a different layout and new room themes
How long has Thrashers House of Terror been in business? Can you tell us a bit more about Thrashers House of Terror's history?
Thrashers House of Terror started in October of 2007. Helping to have additional income for the Non-Profit Midwest Old Settlers and Threshers Association. The idea was brought to the board of directors in 2006 after a local haunted house that operated on the grounds during the Midwest Haunted Rails event closed.
What's your favorite experience since opening Thrashers House of Terror?
It was being an outdoor pest and pestering the guest in the line and their cars. Now it's just managing everything the attraction does.
How long is a typical haunt experience at Thrashers House of Terror from start to finish?
Since we build different layouts year after year, the time to walk through is always different. It can be from 10 to 20 mins, plus how lost you get in there
On a scale from 1 to 10, how scary would you say Thrashers House of Terror is? Why?
I would say 8. It all depends on what frightens you the most
Does Thrashers House of Terror's property have any real haunted history? Do you have a spooky encounter you'd like to share?
no
What inspired you to open up a haunted attraction? What's your favorite part of the business?
Looking to add another side paid attraction to Midwest Haunted Rails After a local haunted house closed.
Can Thrashers House of Terror accommodate large groups? How many people can experience Thrashers House of Terror together as a group?
We accommodate 6-8 people in a group. We do have a guide that will follow you through the attraction. Since we have a lot of middle school to high school kids that like to volunteer for us. just an extra safety for our volunteers
Does Thrashers House of Terror offer any special deals, discounts, or coupons?
No, we do not