Scarville, Iowa and Other Eerily Named Towns Across the Country
Home » Blog » Iowa's Local Halloween Fun Guide, Halloween's Hottest Trends, Iowa Haunt News, Halloween Headlines, Real Haunted Places
October 31, 2017 By Cait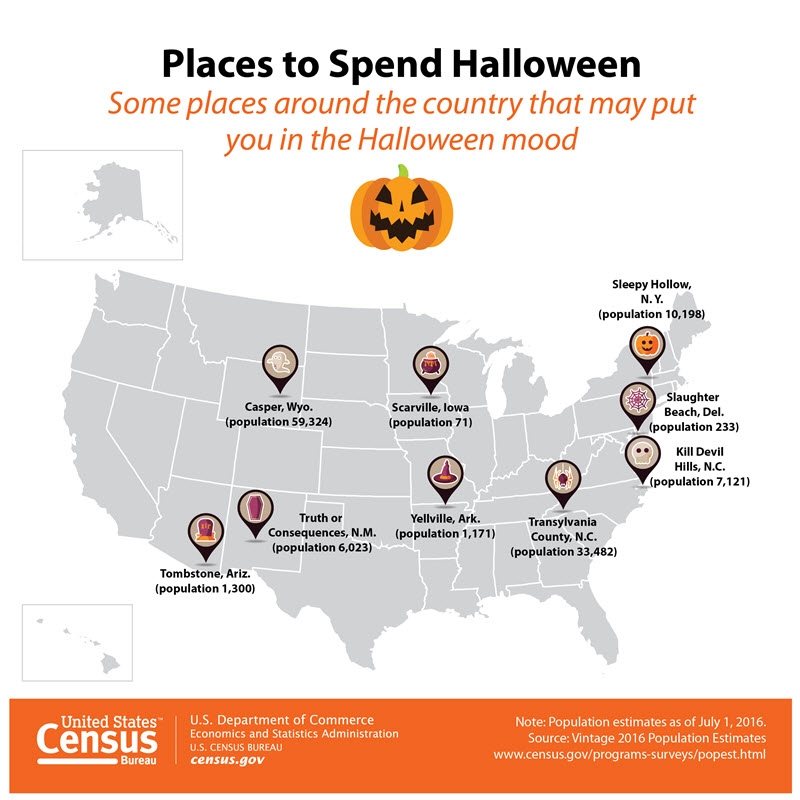 There Are Tons of Towns With Spooky Names Across the US!
Photo by:
The US Census Bureau
Have you heard of Scarville, Iowa? It's a town with a creepy name, at least according to the US Census Bureau, who have put together a fun list of towns with spooky nomenclature to help you get into the Halloween spirit, this season. Across the country, there are tons of towns with names that some might find to be...eerie, or off-putting, but it's all in good fun! These towns are each unique in their own way, and are a fun place to visit during the Halloween Season if you'll be in the area this October!
Casper, Wyoming - Who

doesn't

think of Casper the friendly ghost when they hear this name?


Kill Devil Hills, North Carolina - The name of this town begs the question - are there devils after the residents, or are the residents busy fighting off demons?


Salem, Massachusetts - While this one didn't make the cut for the Census Bureau's list of spooky towns, we think that this iconic town is such an important part of Halloween lore and history that we couldn't not include it.


Scarville, Iowa - At first glance, the name of this town sounds and looks like "Scare Ville" - creepy.


Slaughter Beach, Delaware - We're not sure if we want to know just what happened at Slaughter Beach that was so memorable that the entire town was named after it.


Sleepy Hollow, New York - Anyone familiar with the story of Ichabod Crane knows that Sleepy Hollow is a MUST on any list of spooky towns.


Tombstone, Arizona - What a creepy name for a town, Tombstone. Who would've thought that there's an entire town named after grave markers.


Transylvania County, North Carolina - Ok, so this is a county not a town, and while it's not

the

Transylvania that most of us are familiar with from horror classics like Dracula, but that doesn't mean North Carolina's Transylvania isn't its own special kind of spooky.


Truth or Consequences, New Mexico - We're really wondering how a town ends up with such a unique, and ominous name as Truth or Consequences. While at first glance the town's name sounds fairly reasonable, the more you think about it, the more "Truth, or Consequences" sounds like a threat rather than a statement. Are they plagued with witches, ghouls and other tricksters? You'll need to visit to find out for yourself!


Yellville, Arkansas - If everyone's yelling, will anyone hear you when you scream from fright? What sort of ghoulish horrors are plaguing the town that everyone's yelling (presumably with fear) down in Yellville, Arkansas anyway?

[Source: U.S. Census Bureau]
While it's fun to look at the funky names of towns across the US, we'd like to mention that while the names of these towns might by spooky to some, we're sure that these towns are filled with lots of fun loving Halloween enthusiasts, rather than ghosts, ghouls, or goblins - just like your local town is!
Where Will You Be Spending Halloween 2017? Do You Know of Any Other Towns with Spooky or Scary-Sounding Names?
Let Us Know in the Comments Below!