Kristen Bell Dresses Up as Elsa From "Frozen" After Daughter Demands They Both Goes as Ice Queen for Halloween 2017
Home » Blog » Halloween's Hottest Trends, Little Ghost & Ghouls Corner , Halloween Headlines
November 9, 2017 By Cait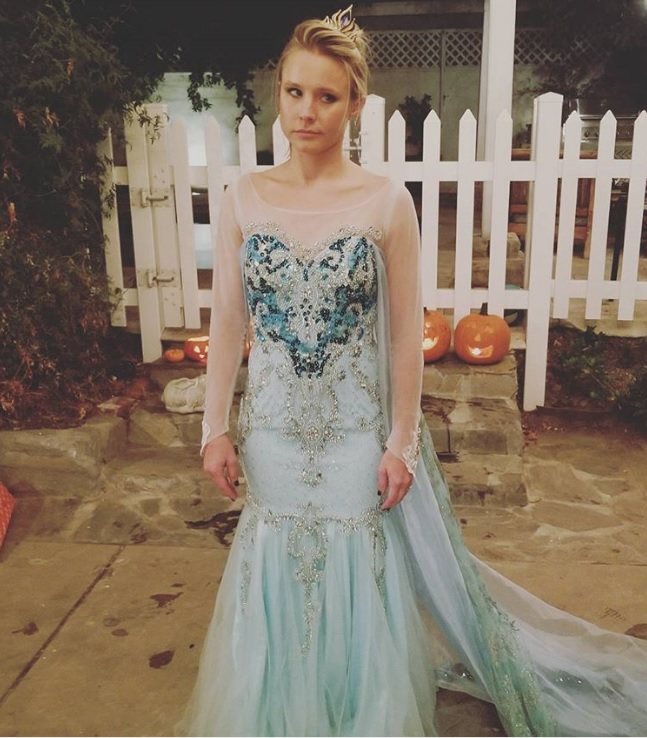 Kristen Bell looks absolutely thrilled to dress up as Elsa from "Frozen" this Halloween!
Photo by:
Kristen Bell, via Instagram.
As many parents will likely tell you, sometimes you just need to learn and "let it go" - a phrase that's become only more and more popular since Disney's smash hit movie "Frozen", which, despite being released in 2013, is still tremendously popular with kids and adults.
Well, this Halloween, Kristen Bell, who actually starred in the movie as ice queen Elsa's sister Anna, had to learn to "let it go" when her daughter demanded that not only do they dress up as Frozen characters together for Halloween, but they both go as (you guessed it), Queen Elsa herself.
Luckily for the tot, not only to Kristen bear a striking resemblance to Queen Elsa when you get her in an ice blue sequenced gown, but she's got quite the sense of humor about it too, posting the following photo on Instagram of her costume:
What really makes the photo, though, is the caption, which perfectly encapsulates what many parents who have been begged to "play along" on Halloween have felt like over the years - "When your daughter demand you BOTH be ELSA for Halloween...you GRIN AND FORKING BEAR IT." Ah, the ol' grin & bear it method - nice work, Kristen!
We could all take a page out of Kristen's book and learn to "let it go" sometimes, don't ya think?
Do You Dress Up With Your Kids on Halloween? Let Us Know in the Comments Below!