Want to Keep on Spreading the Halloween Cheer? Get Your Jackolantern Stamps from the Post Office Before They Run Out!
Home » Blog » Iowa's Local Halloween Fun Guide, Halloween's Hottest Trends, Little Ghost & Ghouls Corner , Iowa Haunt News, Halloween Headlines
November 7, 2017 By Cait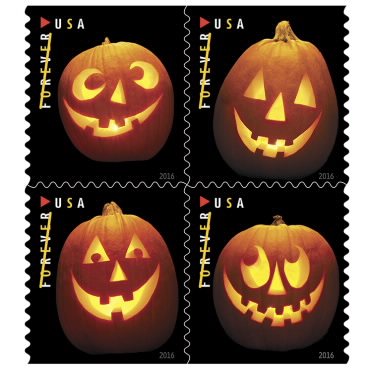 The United States Postal Service is Offering Jackolantern Stamps for Halloween!
Photo by:
USPS.
Ok, so we're a little behind on this one. Halloween has come and gone, but there's still time to order the adorable Jack'o'lantern Forever Stamps issued by the United States Postal Service! Whether you love celebrating the spirit of Halloween year-round, or you'd simply like to add a chuckle or two to your Christmas Cards this year, USPS has you covered.
Forever stamps stay good "forever" so to speak - meaning no matter what price they sell at in the future, they're still good. You can currently get these cute Halloween Stamps for 49 cents each (or, $9.80 for a sheet of 20), which isn't a bad deal at all, and even if the Forever Stamps increase in price in the future, they'll still be usable, despite scoring them at a lower price (Forever Stamp prices tend to go up periodically).
If you're a lover of all things Halloween, then emblazoning your mail with a fun, festive Jack'o'Lantern stamp is a fun way to get your friends in on the holiday fun - even if we are a little late.
Have You Ordered Your Halloween Stamps Yet? Let Us Know in the Comments Below!