Scary Clown Donut Delivery Service Brings on the Scare this October!
Home » Blog » IowaHauntedHouses.com News and Updates, Press Releases, Halloween Headlines
October 17, 2018 By Wendy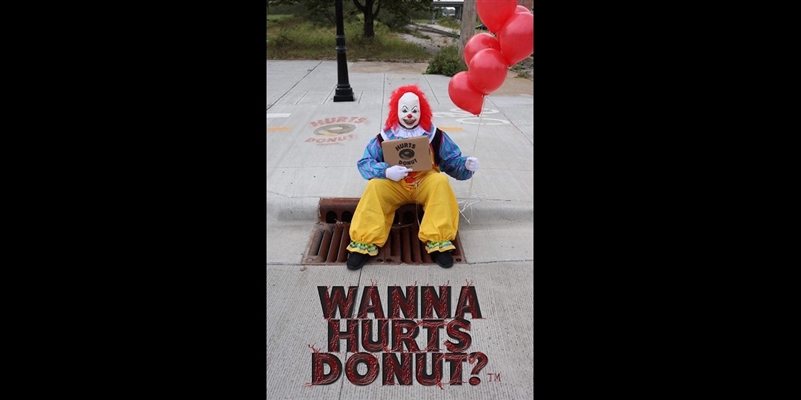 Nothing brings on a scare like a scary clown delivery your donuts!
Photo by:
Hurts Donut Co. - West Des Moines, via Facebook
If a scary clown doesn't freak you, how about a scary clown delivering donuts? Hurts Donut Co. in West Des Moines has a question for you: "Wanna Hurts Donut?" It wants to deliver its donuts to you with its special scary clown delivery service.
The scary clown delivery schedule is as follows:
October 16: Ankeny, Johnston, Grimes, and Northern Des Moines
October 18: Altoona, Pleasant Hill, and Eastern Des Moines
October 22: Norwalk and Southern Des Moines
October 23 and 24: West Des Moines, Waukee, Clive, Urbandale, and Windsor heights
October 25: Drake and Downtown Des Moines
So, if you see a scary clown walking around town with a box of donuts in hand, you now know why!
There are no guaranteed time spots for its special scary clown delivery service, just AM and PM sessions. According to its Facebook post, to get on the delivery schedule, just give them a call.
Note: No deliveries will be made to: hospitals, mental health facilities, daycares, schools, government buildings, police and fire stations, or college classrooms.
Let us know in the comments below if you have someone in mind for this special scary clown delivery service!