Scary Clown Donut Delivery Service Brings on the Scare this October!
Home » Blog » IowaHauntedHouses.com News and Updates, Press Releases, Halloween Headlines
October 11, 2019 By Wendy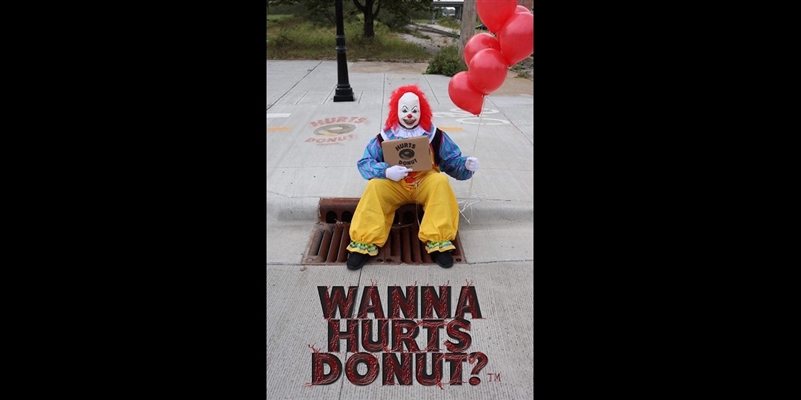 Nothing brings on a scare like a scary clown delivering your donuts!
Photo by:
Hurts Donut Co. - West Des Moines, via Facebook
If a scary clown doesn't freak you, how about a scary clown delivering donuts? Hurts Donut Co. in West Des Moines has a question for you: "Wanna Hurts Donut?" It wants to deliver its donuts to you with its special scary clown delivery service.
The scary clown delivery schedule is available on Oct. 28th, 29th and 30th in the Des Moines area.
Here's the schedule:
Monday, October 28:
Ankeny, Grimes, Johnston and north side of Des Moines
Tuesday, October 29:
Eastside, Southside, downtown, and Norwalk
Wednesday, October 30:
West Des Moines, Waukee, Urbandale, Clive
Simply call or text 515-499-3369 to order. Orders will be returned in the order they were received, according to its Facebook post.
So, if you see a scary clown walking around town with a box of donuts in hand, you now know why!
Let us know in the comments below if you have someone in mind for this special scary clown delivery service!