Christmas Horror Flicks You'll Want to Add to Your Holiday Watch List This Season
Home » Blog » Halloween's Hottest Trends, Halloween Headlines
November 29, 2017 By Cait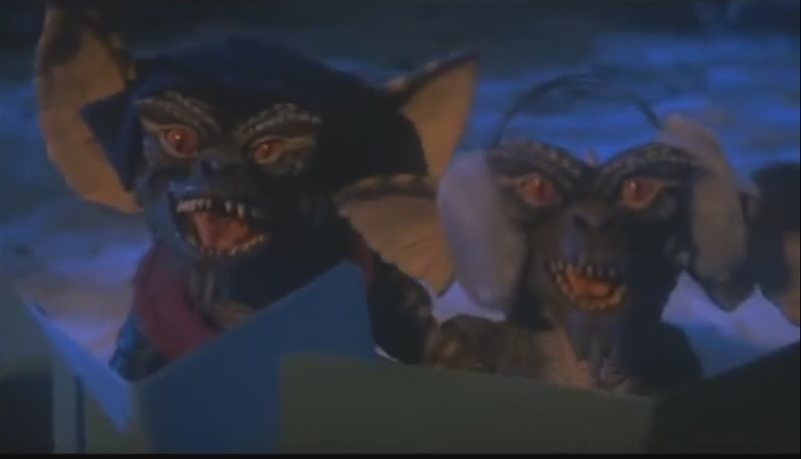 Name a More Iconic Christmas Movie Than Gremlins - I Dare You.
Photo by:
RJA Clips/Warner Bros, via YouTube.
You better watch out, you better not cry...sometimes, it seems like Santa coming to town is more of a threat than a promise, doesn't it? Something about an omnipotent demi-god of a man that lives at the North Pole breaking into millions of people's homes every Christmas, don't ya think?
Well, you're not alone in thinking that the whole "Santa Claus" thing is a bit creepy - there's a ton of Christmas horror movies that have come out over the years that go above and beyond in acknowledging that Santa can be uh, more than a little creepy. If you're a horror-lover looking to get into the holiday spirit, then you won't want to miss out on these festive flicks that are sure to help you get you into the holiday spirit!
A Christmas Horror Story (2015)

- Although it's not yet old enough to call a classic,

A Christmas Horror Story

is definitely a fun watch - especially if you're a fan of William Shatner, who's character ties the entire movie together. Shatner plays shock jock DJ Dangerous Dan, and he recounts four Christmas horror stories on Christmas Eve, and ties the four seemingly unrelated tales together quite nicely.

While the stories are interesting as stand-alone tales, the last one really brings it all together. In the last of DJ Dangerous Dan's gruesome Christmas Tales, Santa Claus gets into a full on epic brawl with The Krampus, and all hell breaks loose at a local mall. Why is there so much holiday anarchy in one little town that's clearly

not

the North Pole? No one knows, but it sure is entertaining!


Rare Exports: A Christmas Tale (2010) - While it's obvious that "Santa Gone Bad" is a staple of the Christmas Horror genre, it's not so common that explorers unearth the remains of "the real Santa", who isn't a benevolent old man who hands out gifts, but a monster that has been buried in a giant burial mound for centuries. Despite

all of the adults in the movie

missing this, a little boy, Pietrari, who conveniently lives on a nearby reindeer farm, figures it out, and starts setting up traps for Santa.

As you'd imagine, despite the ominous warnings of locals, the team of explorers decide that yeah, we should totally unearth this monster-Santa, and things go down hill from there. Full disclosure, this is a super weird foreign flick, but if you're into that kind of thing, this is definitely worth a watch this holiday season.



Christmas Evil (1980)

- So, the set up for this one is a bit outrageous, if you ask me. A little boy named Harry sees his mom kissing Santa Claus one Christmas, and is so traumatized that he basically develops a Santa-related complex that only intensifies with age (it's worth noting that the Santa that Harry saw his mother kissing was in fact Harry's father who was dressed up for the holiday).

Flash forward to adulthood, and Harry works for a toy making company, and as an adult, he's made the totally reasonable decision to become "the next true Santa", which of course includes dressing up as the Jolly Man in Red, spying on his neighbors children, and generally over-committing to all of the creepier and more outlandish aspects of being Santa (think: Tim Allen in

The Santa Clause

, but creepy as hell). All is well and good, until Harry comes to the realization that his coworkers think he's a joke, and this causes him to have a nervous breakdown (not that it took much).

From there, he decides to go full Santa (yes, even more), and he breaks into the toy factory, steals and wraps a bunch of toys, and delivers them to the local children's hospital like some sort of Robin Hood Santa vigilante, and from there, well, it's time to punish those on his naughty list, which means mercilessly murdering them with an axe, while still dressed as Santa, of course. And that's just the start of the rampage.



Sint (2010)

- It turns out Santa wasn't as good of a guy as we all like to think, apparently - we've all just forgotten that he's a bad guy, according to the Dutch film

Sint

, which is a terrifying take on the legend of "Sinterklaas", which of course is Dutch for "Santa Claus".

Sint

opens on December 5th, 1492, when the local townsfolk lynching good ol' Bishop Niklas (aka, Saint Nick), and his gang of murderous thugs who had been terrorizing the village, and basically going door to door robbing everyone.

But that's not the end of things, oh no - Niklas vows to return to exact his revenge, but over the years, people forget, and start celebrating good ol' Saint Nick, and the evil doings of Bishop Niklas fade into history. That all changes when Sinterklaas comes back for his revenge as promised, and boy, is he pissed.


Gremlins (1984) - Looking for something a little more lighthearted to watch this holiday season? Not to worry,

Gremlins

has got you covered!

Gremlins

was an instant-classic, and has become a staple of the holiday season. It all starts with a little boy getting a (seemingly) harmless Mogwai for Christmas, but you know what they say - don't feed them after midnight, or expose them to extreme light, or they'll turn into a Gremlin. Easy enough, right? Nope.

Not only is

Gremlins

a great horror movie, but it's an iconic Christmas movie too. You've got Gremlins donning Santa Suits singing "Deck the Halls", and wearing all sorts of adorable, festive outfits as they wreak havoc on the town. As funny as it is scary, Gremlins is

the

Christmas Horror Movie to watch this holiday season - if you're limiting yourself to one, that is.
What's Your Favorite Christmas Horror Movie?
Let Us Know in the Comments Below!